NetSuite has released the first (v1) preview draft of the NetSuite 2020.1 Release Notes. Note that this is a very early version and per NetSuite these are subject to change every week. Be sure to check back here regularly for the newest version.
NetSuite ReleaseNotes_2020.1.0
Here are some items we think are looking valuable in the NetSuite 2020.1 Release (so far!).
Balance Transactions by Segments
With the new Balancing Segments feature you can now balance transactions by segments. In NetSuite, the general ledger always balances for the company or, in OneWorld accounts, for the subsidiary.
Now you can identify custom segments to balance for other dimensions. For example, you can create balancing segments for product lines or business units. When you run the new Balancing by Segments process, NetSuite automatically balances your transactions by their balancing segments.
Bank Statement Parser Enhancement
First released in 2019.2, the Bank Statemnt Parser SuiteApp now has support for CAMT.053, BAI2 and OFX/QFX (for most credit card statement files).
Sales and Purchase Custom Type Transactions
NetSuite 2020.1 extends custom transactions flexibility with the addition of two new custom transactions types: sales and purchase. With sales and purchase transaction types, you can create custom transactions similar to invoices, cash sales, credit memos, vendor credits, bills, and more. You can utilize most of the standard sales and purchase functionality like the Items sublist, taxes (SuiteTax only), and revenue recognition. You can also include your name and define numbering sequences and permissions for your custom transactions.
Subsidiary Hierarchy Modification
As of 2020.1, NetSuite enables users with appropriate permission to modify their subsidiary hierarchy structure, if required. Businesses may need to modify their subsidiary hierarchy when they change the headquarter subsidiary, or to elevate a subsidiary in the hierarchy.
Employee-Specific Expense Report Attachments in File Cabinet
NetSuite 2020.1 introduces two features to support a new expense report file structure in the File Cabinet. The new structure is required in NetSuite 2020.2. To enable the employee-specific attachments, go to > Setup > Company > Enable Features. Under Data Management, check the Enhanced File Security – Use Employee Specific Expense Folders box. When you enable this feature, expense file attachments automatically submit to a dedicated employee expenses folder, predefined by the system.
If you have the Administrator role, you can see the contents of these folders, but employees can no longer locate or access these attachments from the File Cabinet. Employees must instead access their expense attachments from the expense report record.
SuiteApp Marketplace replacing SuiteApp.com
As of 2020.1, the SuiteApp Listing page has been replaced with the new SuiteApp Marketplace. The SuiteApp Marketplace is available for finding and installing SuiteApps created by using the SuiteCloud Development Framework.
The SuiteApp Marketplace is currently available to Administrators and users with the SuiteApp Marketplace permission. To access the SuiteApp Marketplace, go to Customization > SuiteCloud
Development > SuiteApp Marketplace.
The following example shows how SuiteApps can be listed in the SuiteApp Marketplace: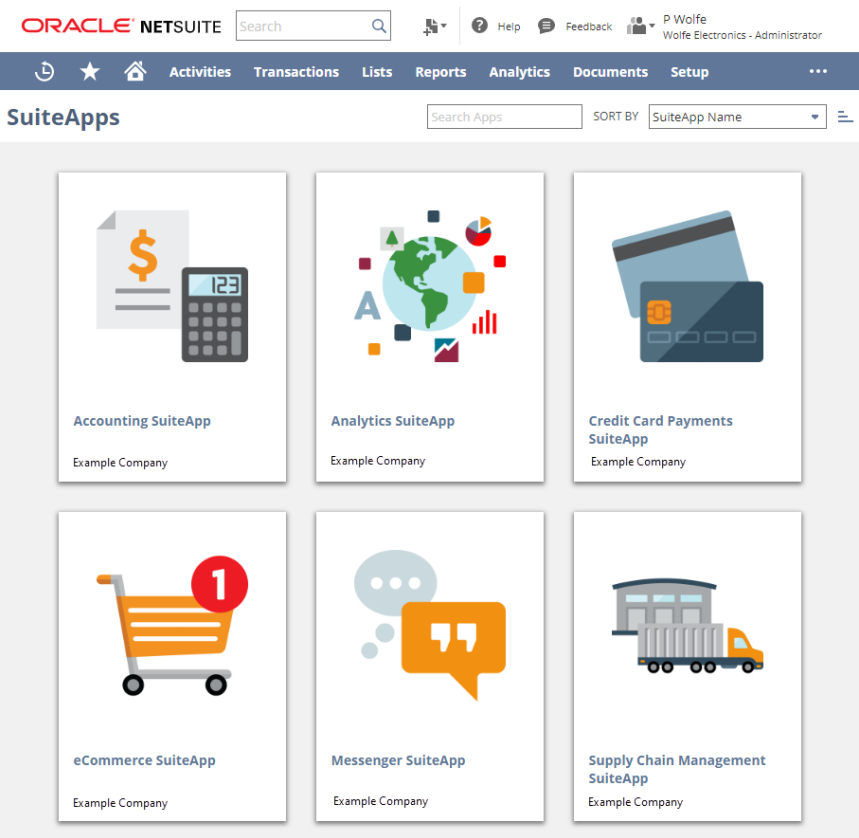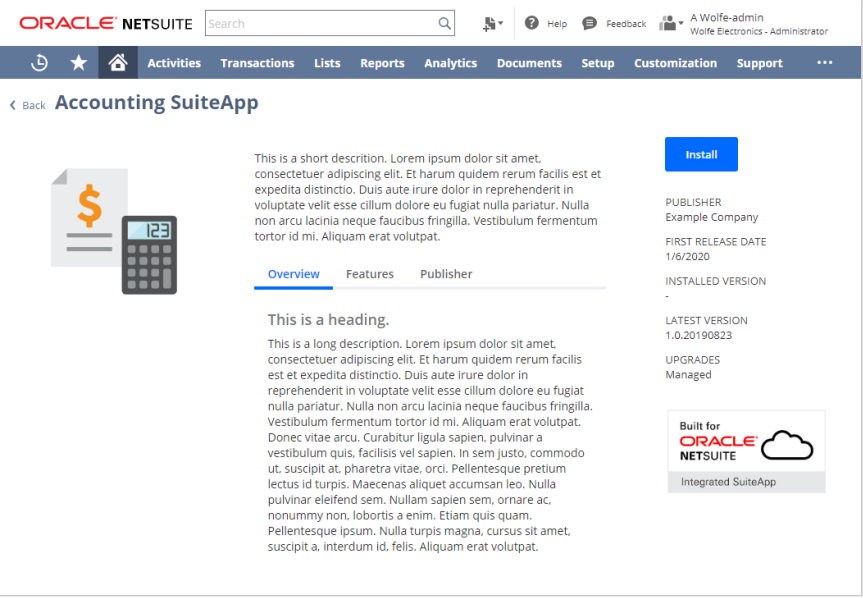 Users can perform the following actions in the SuiteApp Marketplace:
Install SuiteApps that are both shared to their account and supports their NetSuite account version.
Upgrade SuiteApps that have been installed to their account when a new SuiteApp version is available.
View the status of a SuiteApp after an install, upgrade, or uninstall has been initiated. Only some states of the SuiteApp can be viewed on the SuiteApp Marketplace.
As always, please contact support@newgennow.com if you have any questions or need assistance with any of the items listed – we're here to help!